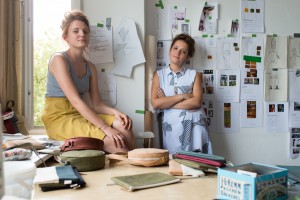 CIRCLES – unique design for beautiful people
Unser Label bietet dir handgefertigte Taschen und Accessoires.
Nachhaltig, bequem und mit klarem Design.
Wir betrachten Mode als natürlichen Kreislauf. Deswegen verwenden wir bei unserer Kollektion ausschliesslich GOTS-zertifizierte Bio-Stoffe aus reiner Baumwolle sowie Korkstoff aus Portugal.
Mit dem Korkstoff, auch "veganes Leder" genannt, erhalten unsere Taschen und Accessoires einen unverwechselbaren Look aus natürlichen Farben und Musterungen. Das lederähnliche Material wird dich durch seine weiche, wasserabweisende Qualität überzeugen.
CIRCLES – das sind Esther Wagner und Anna Huber. Seit 2015 arbeiten wir in Köln an unserer Vorstellung von nachhaltiger Mode und Ästhetik. Aus Überzeugung und Liebe zu natürlichem Material, klarer Form und guter Qualität entwerfen und fertigen wir alle Stücke unserer Kollektion in limitierter Stückzahl an.
WEAR CIRCLES!
CIRCLES – unique design for beautiful people
Our brand offers you handmade bags and accessories.
Sustainable, comfortable and with a clear cut design.
We regard fashion as a natural cycle. That's why we exclusively use GOTS- certified cotton and cork fabric from Portugal.
By using cork fabric (also known as 'vegan leather´) our bags get a distinctive look of natural colours and patterns. The leather-like material will convince you with its soft and waterproof quality.
CIRCLES – that's Esther Wagner and Anna Huber. Based in Cologne we have been working on our vision of sustainable fashion and aesthetics since 2015. Out of conviction and love for natural materials, clean design and high quality, we design and manufacture all pieces of our collection in limited editions.
WEAR CIRCLES!
Merken